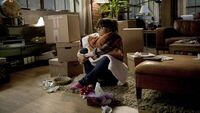 Fans of New Girl will be happy to hear that Fox has picked the show up for eleven additional episodes--a full-season pickup.
"We love the charming Zooey Deschanel and the entire cast, we're knocked out with the work that Liz Meriwether and the whole staff is doing and we are really psyched about the upcoming episodes in the pipeline," said Fox prez Kevin Reilly. "It's great that audiences have responded so positively so far and we're confident that even more people will embrace the show – and more comedy on FOX – this season."
New Girl is Fox's highest-rated fall sitcom debut in ten years, and it maintained almost all of its original audience in Week Two. Looks like Fox made the right choice--so get ready for an entire season of New Girl!

Source: TVline.com