The second season of New Girl was announced by Fox on April 9, 2012. The season premiered on September 25, 2012. It consisted with 25 episodes and the season finale aired on May 14, 2013.
Plot
Season 2 continued to explore the deepening relationships between the roommates in the loft, and with Jess' lifelong best friend, Cece. Nick and Jess develop a romantic relationship by the end of the season, and Cece walks out on her arranged marriage ceremony in the season finale, declaring her love for a long-pining Schmidt.
The season also allowed viewers to get to know some of the major characters' families, helping to establish character motivations and personalities - Rob Reiner appeared in three episodes as Jess' father, Bob Day, and Jamie Lee Curtis appeared at Thanksgiving as her mother, Joan. Rob Riggle also guested in the Thanksgiving episode, "Parents," as Schmidt's uber-competitive cousin - also named Schmidt. Nick experienced the death of his con-man father, Walt (played by Dennis Farina), and Jess was introduced to his headstrong mother, Bonnie (played by Margo Martindale) at his funeral in "Chicago." Anna Maria Horsford and Keenyah Hill appeared as Winston's mother, Charmaine, and WNBA star sister, Alisha, in "Katie."
David Walton (Sam), Merritt Wever (Elizabeth), Nelson Franklin (Robby) and Satya Bhabha (Shivrang) appeared in multi-episode arcs as significant others of Jess (Sam), Schmidt (Elizabeth), and Cece (Robby then Shivrang). Olivia Munn, as a commitment-phobic stripper, appeared in three episodes as Nick's quasi-girlfriend, Angie. Carla Gugino guested in three as Schmidt's just-divorced boss, Emma, who convinces him to sign a sex contract. Kali Hawk, who began appearing in season one as Winston's girlfriend, Shelby, was out at "Halloween," when Shelby and Winston ended their relationship. Brenda Song appeared in two episodes as his new love interest, Daisy.
Dermot Mulroney returned as Russell, crashing Nick and Jess' awkward "First Date." Parker Posey ("Re-Launch"), Raymond J. Barry ("Katie"), Brooklyn Decker ("Cooler"), Steve Howey ("TinFinity"), Odette Annable ("Quick Hardening Caulk") and Taylor Swift ("Elaine's Big Day") all made single-episode guest appearances in season two.
Cast
Main cast
Recurring cast
Satya Bhabha as Shivrang (7/25 episodes)
David Walton as Sam (6/25 episodes)
Nelson Franklin as Robby (6/25 episodes)
Brenda Song as Daisy (4/25 episodes)
Merritt Weaver as Elizabeth (4/25 episodes)
Carla Gugino as Emma (3/25 episodes)
Olivia Munn as Angie (3/25 episodes)
Rob Reiner as Bob (3/25 episodes)
Rachael Harris as Tanya Lamontagne ("Re-Launch")
Dermot Mulroney as Russell ("First Date")
Guest stars
Steve Agee as Outside Dave (2/25 episodes)
June Diane Raphael as Sadie (2/25 episodes)
Dennis Farina as Walt Miller (2/25 episodes)
Parker Posey as Casey ("Re-Launch")
Anna Maria Horsford as Charmaine ("Katie")
Keenyah Hill as Alicia ("Katie")
Raymond J. Barry as Old Nick ("Katie")
Josh Gad as Bearclaw ("Katie")
James M. Connor as Gary ("Models")
Maria Thayer as Amelia ("Halloween")
Molly Cheek as Marion ("Menzies")
Jaime Lee Curtis as Joan ("Parents")
Rob Riggle as Big Schmidt ("Parents")
Kay Cannon as Melissa ("Eggs")
Jeff Kober as Remy ("Bathtub")
Nathan Corddry as Edgar ("Pepperwood")
Brooklyn Decker as Holly ("Cooler")
Steve Howey as Jax McTavish ("TinFinity")
Odette Annable as Shane ("Quick Hardening Caulk")
Margo Martindale as Bonnie ("Chicago")
Ellen Albertini Dow as Aunt Ruthie ("Chicago")
Bill Burr as Bobby ("Chicago")
Nick Kroll as Jamie ("Chicago")
Lauren Weedman as Mysteria ("Virgins")
Carla Renata as Octopussy ("Virgins")
Dylan O'Brien as The Guy ("Virgins")
Joseph Culp as Mick Jagger ("Virgins")
Curtis Armstrong]] as Dr. Foster ("Winston's Birthday")
Mary Lynn Rajskub as Peg ("Winston's Birthday")
Taylor Swift as Elaine ("Elaine's Big Day")
Episodes
No. in Series
No. in Season
Title
Air Date
Production Code
U.S. viewers
25
1
Re-Launch
September 25, 2012
2ATM01
5.35
Jess is fired from her teaching job. Schmidt throws a party at Nick's bar, in celebration of his penis cast being removed. A new side of Winston is revealed after he drinks some of Nick's fruity concoctions. Cece introduces her new boyfriend, Robby to Schmidt.
26
2
Katie
September 25, 2012
2ATM02
5.18
Jess meets Sam, a handsome stranger who thinks she is his blind date; A regular at Nick's bar claims he is Nick from the future and Winston's mother Charmaine and sister Alisha visits. Schmidt is determined to sleep with Alisha.
27
3
Fluffer
October 2, 2012
2ATM04
4.99
Jess and Nick evaluate their friendship, after Nick is convinced that Jess is only using him as a platonic boyfriend. Elsewhere, Schmidt hopes to impress an attractive Republican by pretending to be one of Mitt Romney's sons. Winston has random sexual fantasies, due to Shelby refusing to have intercourse with him for many weeks.
28
4
Neighbors
October 9, 2012
2ATM03
4.94
Jess and Schmidt try fitting in with younger people who have moved in across the hall from them. Nick works extra hard to prank Schmidt.
29
5
Models
October 23, 2012
2ATM05
5.16
Jess insults Cece's modeling profession in front of her other model friends. Schmidt feels insulted after Nick says he is bothered by Schmidt buying him a cookie and thinking about him during the day.
30
6
Halloween
October 30, 2012
2ATM06
4.75
Jess begins to have genuine feelings for Sam as more than a sexual partner, after seeing him work as a pediatrician during the day. Nick reunites with Amelia, an ex-girlfriend from college. Schmidt intrudes on Cece and Robby's Halloween date. Winston feels it is finally time to break up with Shelby.
31
7
Menzies
November 13, 2012
2ATM07
4.35
Still unable to find a new job, Jess blames her problems on premenstrual syndrome. Winston also thinks he is suffering from same symptom as Jess, even though he is a man. After meeting a strange old man in the park, Nick decides to be less angry. Schmidt agrees to be consensually sexually harassed by his new boss, Emma (Carla Gugino). Cece is bothered after Robby labels her a "nice girl"
32
8
Parents
November 20, 2012
2ATM08
4.11
Jess' divorced parents come over to the apartment for Thanksgiving; Jess tries to get them back together despite numerous failed attempts in the past. Schmidt's cousin, also named Schmidt, comes over, spurring a manly competition between the two.
33
9
Eggs
November 27, 2012
2ATM09
4.12
Jess is in her thirties and she begins to worry about wanting to have children before it's too late. Schmidt is bothered by being unable to satisfy Emma during sexual intercourse. Nick finally decides to sit down to begin writing his zombie novel.
34
10
Bathtub
December 4, 2012
2ATM10
4.10
Tired of taking showers, Jess and Winston decide that they want to put a bathtub in the loft. However, their attempts makes matters worse causing them to fool Schmidt by faking a robbery. Nick meets Angie, a tough and beautiful stripper with a hotheaded boyfriend. Schmidt struggles between having sexual relations with Emma and trying to win Cece back.
35
11
Santa
December 11, 2012
2ATM11
4.18
The gang attends several Christmas parties on Christmas Eve. Sam tries to win Jess back. Nick is intimidated by Angie being very sexually adventurous in public. Schmidt rejects Cece's Christmas gift after she denies him after he proclaimed his love for her.
36
12
Cabin
January 8, 2013
2ATM12
3.78
When Jess and Sam plan on a cabin retreat, she invites Nick and Angie and discovers it was a bad idea. Meanwhile Winston attempts to educate Schmidt on race relations
37
13
A Father's Love
January 15, 2013
2ATM13
3.65
When Nick's con-man father suddenly reappears, Jess tries her best to fix the two men's relationship, despite Nick's fears that he's being used in another one of his dad's gambling schemes. Meanwhile, Schmidt teams up with Robby to try to win back Cece.
38
14
Pepperwood
January 22, 2013
2ATM14
4.05
When Nick is convinced that one of Jess' students is hiding a nefarious secret, he goes undercover in her adult night school class. Meanwhile, Winston has an embarrassing encounter with Cece, causing an examination of all the loft-mate's peculiarities.
39
15
Cooler
January 29, 2013
2ATM15
4.74
Jess is considered to be a cool force when she goes out with the guys, so they go out to find women and leave her at home. Jess hears noises outside and asks the guys and their dates to return. Party games begin, and Nick has to kiss Jess.
40
16
Table 34
February 5, 2013
2ATM16
26.23
The gang attends an Indian marriage convention with Cece, where she hopes to find her future husband. While there, Schmidt once again tries to win Cece back. Jess and Nick try to discuss the intimate moment they shared the night before. Anu, the head of the marriage convention hits on Winston.
41
17
Parking Spot
February 19, 2013
2ATM17
4.36
Schmidt finds an extra parking spot, and he, Jess, Nick and Winston fight over it. Winston goes on a trek to find a condom to have sex with Daisy.
42
18
TinFinity
February 26, 2013
2ATM18
4.29
Jess catches the eye of a professional football player, with whom Winston is trying to land an exclusive interview for his radio station. Meanwhile, Nick and Schmidt argue over the planning of their "TinFinity" party celebrating their tenth anniversary of living together, and Cece gets a surprise offer.
43
19
Quick Hardening Caulk
March 19, 2013
2ATM19
4.26
Jess comes to a conclusion about her romantic feelings for Nick and she struggles to tell him. Schmidt becomes obsessed with buying a fish, which Winston sees as a metaphor for Schmidt's unresolved feelings toward Cece. Nick plans a bar promotion to impress the bar owner.
44
20
Chicago
March 26, 2013
2ATM20
4.19
When a death occurs in Nick's family, Jess, Schmidt and Winston travel with Nick to the Windy City to help him with the funeral preparations and meet his boisterous family members, including his mom, Bonnie (guest stat Martindale); his younger brother, Jamie; and his Boston cousin, Bobby.
45
21
First Date
April 4, 2013
2ATM22
4.77

Jess and Nick, who are caught between friendship and something more, try to break out of relationship limbo by going on a "first" date. Once Schmidt and Winston realize a full-on Jess/Nick romance might be happening, they swoop in to try to sabotage the date.

46
22
Bachelorette Party
April 9, 2013
2ATM21
4.09
Jess decides to throw Cece a surprise bachelorette party while Nick and Winston awkwardly take her fiancé, Shivrang, out for the night. Then, as Schmidt desperately tries to find a real girlfriend in time for the wedding in order to get a "plus one," he is forced to seek out his old girlfriend from his "fat Schmidt" college days.
47
23
Virgins
April 30, 2013
2ATM23
3.57
In a series of flashbacks, Jess, Nick, Schmidt, Winston and Cece tell one another how they each lost their virginity. Not surprisingly, when they realize the stories directly affect their present day sex lives, one relationship will change forever.
48
24
Winston's Birthday
May 7, 2013
2ATM24
3.94
Jess' dad chooses the worst day to pay the loft an unexpected visit, forcing a nervous Nick to spend time alone with him. Meanwhile, Jess gets a shot at a big new job on the day before Cece's wedding. Then, Schmidt struggles to publicity date a less-than-physically-ideal woman, and Winston continually psyches himself up for his huge surprise birthday celebration, which no one seems to remember to throw for him.
49
25
Elaine's Big Day
May 14, 2013
2ATM25
4.06
Cece's wedding day finds Jess and Nick making a decision about their relationship. Meanwhile, Schmidt schemes with a typically overenthusiastic Winston to sabotage the nuptials, although a shocking announcement may be bigger than anything he plans.
DVD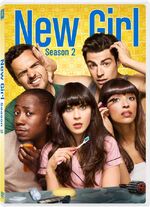 The Complete Second Season of New Girl release on October 1, 2013 in Region 1, November 25, 2013 on Region 2, December 13, 2013 on Region 3 and November 9, 2013 on Region 4. The DVD includes the 25 episodes of the first season divided on 3 discs. More details:
Studio: NETWORK TV
Run Time: 09 hr 06 min
Language: English, Spanish
Subtitle Language: English, Spanish, French
Picture Format: widescreen
Release Date: October 1, 2013
Online Item #: 14917529
Store Item Number (DPCI): 058-22-3448
Promotional pictures