Season 1 of comedy New Girl aired on FOX from 20 September 2011 to 8 May 2012.
Synopsis
Zooey Deschanel stars as Jessica "Jess" Day, a well-liked, bubbly, and adorable school teacher in her late 20s, who finds herself without a place to live when she discovers that her boyfriend of six years has been cheating on her. She finds a new place to stay when she moves into a loft in L.A. with three single guys: Nick Miller (Jake Johnson), a surly bartender with little direction in life; Schmidt (Max Greenfield), a marketing executive and modern-day Casanova who's rough past informs his bloated ego; and Winston Bishop (Lamorne Morris), a former professional athlete who achieved modest success abroad, struggling to adjust to life back in the United States. Morris, who debuts in episode 2, was hired by showrunners after the pilot was complete, as a replacement for Damon Wayans Jr.'s Coach; the actor was forced to leave New Girl due to contractual obligations for a show called Happy Endings, which aired on another network.[1] As a result, his character was written out of the show, but still exists in the world inhabited by the characters.
The season focuses on establishing the relationships between the roommates, as well as their relations with the opposite sex. Through both, integral character points are formed or discovered. Cece (Hannah Simone) is Jess' lifelong best friend, and throughout the season her shared attraction with Schmidt is explored, though they break up in the final episode of the season. Hints of Jess and Nick's attraction to each other are also established, but they spend much of the season dating other people (guest stars including Lake Bell, Justin Long, Lizzy Caplan, Dermot Mulroney, and Mary Elizabeth Ellis). Winston, the only major character to undergo a career change in season one, starts dating an old flame, Shelby (Kali Hawk), in the second half of the season.
Cast
Main Cast
Recurring Cast
Guest Cast
Episodes
No. in Series
No. in Season
Title
Air Date
Production Code
U.S. viewers
1
1
Pilot
September 20, 2011
1ATM79
10.28
Heartbroken over her cheating boyfriend, Jessica "Jess" Day moves in with three single men, Schmidt, Nick and Coach to get over her breakup. The guys try their best to get her out of the apartment and back into the dating life with the help of Jess' best friend Cece but end up with more than they expect because they find themselves truly caring for her as a friend.
2
2
Kryptonite
September 27, 2011
1ATM01
9.28
Jess accidentally breaks the television after a spontaneous living room basketball game; Nick and Schmidt try to convince Jess to retrieve her TV and personal belongings from the house she had shared with her now ex-boyfriend. After Coach leaves, the original fourth roommate Winston returns and attempts to manipulate Schmidt into switching rooms since Schmidt now occupies Winston's original and larger bedroom.
3
3
Wedding
October 4, 2011
1ATM04
8.65
Nick is worried that he will run into Caroline his ex-girlfriend at a mutual friend's wedding the guys were invited to and asks Jess to be his date/pretend girlfriend. At the wedding, Winston takes his job as usher far too seriously and Schmidt attempts to woo Brooke a former highschool crush, but also catches the eye of his sexually abusive "frenemy" Gretchen.
4
4
Naked
November 1, 2011
1ATM02
7.42
Nick suffers a blow to his self-esteem when Jess walks in on him naked, before his date with his coworker. Meanwhile, Winston gets obsessed with learning pop-culture references online for his job interview.
5
5
Cece Crashes
November 8, 2011
1ATM03
6.84
After moving in, Cece convince Jess that Nick sees her as more than a roommate. While Schmidt tries to seal the deal with Cece.
6
6
Thanksgiving
November 15, 2011
1ATM06
6.91
Jess invites Paul, a fellow teacher on whom she has a crush, for Thanksgiving dinner at the apartment. Everyone warms up to Paul except for Nick. Cece becomes attracted to Schmidt while he is cooking Thanksgiving dinner. .
7
7
Bells
November 29, 2011
1ATM05
7.59
Jess gets jealous when Winston joins her troubled-youth handbell quartet and instantly becomes a natural. Meanwhile Nick and Schmidt engage in class warfare when the toilet breaks and they each have their own idea of how to get it fixed.
8
8
Bad in Bed
December 6, 2011
1ATM07
6.79
When Jess decides to take her relationship with Paul to the next level, she consults with the guys for some sex advice. Meanwhile, Schmidt worms his way into his boss' baby shower to compete with his office female counterpart.
9
9
The 23rd
December 13, 2011
1ATM10
6.82
Schmidt brings the gang along with him to his office party. Paul tells Jess that he loves her, but Jess' feelings are not mutual.
10
10
The Story of the 50
January 17, 2012
1ATM08
6.97
Jess agrees to throw Schmidt's 29th birthday party in school bus as a party bus. She also invites her boss Tanya (Rachael Harris) to the party. Nick introduces his new girlfriend Julia (Lizzy Caplan) to the gang.
11
11
Jess & Julia
January 31, 2012
1ATM12
7.29
Nick panics when Julia (guest star Lizzy Caplan) doesn't want to put a label on their relationship. Meanwhile, Jess enlists Julia to help her get out of a traffic ticket, Winston reconnects with a former booty call (guest star Kali Hawk) and Schmidt is baffled as to why his shower towel is always damp.
12
12
The Landlord
February 7, 2012
1ATM11
6.83
Against Nick's wishes, Jess makes it her mission to get the loft's cantankerous landlord (guest star Jeff Kober, "Sons of Anarchy") to like her. In doing so, she inadvertently jeopardizes their living situation and the guys are forced to admit they've made some "unofficial" changes to the apartment. Meanwhile Schmidt tries to decipher what he thinks are mixed signals from his boss Kim (guest star Gillian Vigman).
13
13
Valentine's Day
February 14, 2012
1ATM13
6.47
Single for the first time on Valentine's Day, Jess convinces Schmidt to be her wingman as she attempts to have an attachment-free fling with a handsome stranger. Nick's romantic plans are foiled when he finds himself spending more time with Julia's law firm assistant than with her. Winston becomes one of the girls when Shelby invites him over on the holiday.
14
14
Bully
February 21, 2012
1ATM15
6.27
When Jess tries to intervene with a classroom bully she finds herself the target of the bad seed student. Schmidt, meanwhile, is thrilled over his post-Valentine's sexcapades, but hates that his paramour wants to keep it a secret; and Nick goes into a tailspin when Julia sends him a cactus.
15
15
Injured
March 6, 2012
1ATM09
6.00
When Nick is hurt playing a game of touch football and Jess discovers he doesn't have insurance, she brings him to her doctor friend - an OB-GYN. The gang rallies together and Nick evaluates his life when his seemingly innocuous back injury may prove to be more serious than thought.
16
16
Control
March 13, 2012
1ATM14
5.74
Jess encourages Schmidt to go on strike at the loft after noticing he does all the housework with no help from the others. Meanwhile, Nick must pay up to Winston after losing a game of poker.
17
17
Fancyman (Part 1)
March 20, 2012
1ATM16
5.18
Jess disagrees with a student's father, Russell (Dermot Mulroney), on the child's priorities. When she goes to confront him about it, she ends up falling for him instead. Nick decides that he doesn't need a cell phone. Winston tries to impress Shelby by proving that he knows more trivia than Schmidt does.
18
18
Fancyman (Part 2)
March 27, 2012
1ATM17
4.96
Jess and Russell go on their first date, but Jess feels uncomfortable afterward when Russell gives her mixed signals about their relationship. Nick's old college roommate, Dirk (Martin Starr), visits and encourages Nick to date younger female college students. Winston finally gets the nerve to tell Shelby how he feels about her. Through an unusual set of circumstances, Winston finds out about Schmidt and Cece's relationship.
19
19
Secrets
April 3, 2012
1ATM18
4.59
Winston spills the beans about Schmidt and Cece's relationship and the news finally spreads to Jess who does not take it well. Jess decides the roommates should be free with their secrets and gets more than she bargained for. Meanwhile, Nick goes to Schmidt for dating advice.
20
20
Normal
April 10, 2012
1ATM19
5.23
After spending an entire week at Russell's place, Jess returns the favor by having Russell stay over at the apartment with the guys for a weekend. The weekend however does not turn out as planned. Winston gets his dream job, when he is hired to work for his favorite sports radio host (Phil Hendrie), who turns out to be a short-tempered jerk. Kareem Abdul-Jabbar makes a cameo appearance.
21
21
Kids
April 17, 2012
1ATM20
5.22
Jess meets Russell's ex wife (Jeanne Tripplehorn) and agrees to watch their daughter, who develops a crush on Nick. Cece is scared that she is pregnant with Schmidt's child. Nick dates an artsy college student (Chloe Bridges), who is a lot younger than Nick thinks. Winston tries to get his boss on the set of a talk show hosted by Michael Strahan.
22
22
Tomatoes
April 24, 2012
1ATM21
5.20
Jess fears she and Russell don't share the fiery passion he exhibits with his ex-wife Ouli. Meanwhile, Cece is not yet willing to admit her true feelings for Schmidt, so she encourages him to go on a date with one of her Russian model roommates. Then, a down-in-the-dumps Nick channels all of his energy into a new vegetable garden.
23
23
Backslide
May 1, 2012
1ATM22
4.40
When Jess and Nick run into their exes Paul and Caroline, the gang fears they both may "backslide" into romantic relationships. Meanwhile, Schmidt desperately tries not to get aroused as he deals with a delicate medical issue, Winston suffers the consequences of a wild night out with his boss and Cece brings Schmidt to a nursing home to meet her grandmother.
24
24
See Ya
May 8, 2012
1ATM23
5.61
When one of the roommates decides to move out of the loft, the gang makes an unexpected trip to the desert where Winston faces his fear of the dark, Cece and Schmidt's relationship reaches a turning point and Jess and Nick square off with a coyote
DVD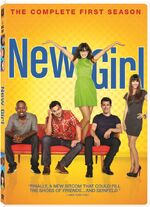 The Complete First Season of New Girl was released on October 2, 2012 in Region 1, December 3, 2012 on Region 2, November 2, 2012 on Region 3 and October 10, 2012 on Region 4. The DVD includes the 24 episodes of the first season divided on 3 discs. More details:
Studio: 20th Century Fox
Run Time: 08 hr 43 min
Language: English
Subtitle Language: English, French, Spanish
Online Item #: 14265605
Store Item Number (DPCI): 058-22-3034
Photos
Notes and References
Community content is available under
CC-BY-SA
unless otherwise noted.