Fired Up is the 19th episode of the third season of New Girl, the 68th episode overall.
Synopsis
Jess gets Coach a coaching job at her school, she must then fire him for budget reasons, after being promoted to vice principal. Schmidt gets sued and has Nick (who passed his bar exam) and Winston (who loves legal procedural shows), to represent him in a deposition. Cece gets hit on by a younger Australian guy named Buster (James Frecheville).
Plot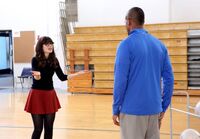 Jess gets Coach a job at her school, as the coach of the school volleyball team. Jess takes on extra tasks in hopes that in a few years, Principal Foster will make her vice principal. Coach tells her that if she wants it, she should ask for it. She asks Principal Foster and he gives her the position.
She discovers that they are overbudget and need to make cuts. She is forced to fire Coach because he was the most recent one hired. After firing Coach, the kids pitch in to make him a coat that says "Coach Coach", Coach walks out crying. While having a drink, Jess convinces Coach to go support the kids at the game even though he's fired. When they arrive, the kids are losing and Coach steps in to help them. Jess decides to give him his job back and tells the principal that she's going to find a way.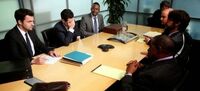 Meanwhile, Schmidt is storing his stuff in the storefront he bought and some guy thinks that Schmidt is selling it. Schmidt pretends that he has a store and the guy fakes a fall and tells Schmidt he's suing. Since Schmidt is broke, Nick tells Schmidt that he is going to be his lawyer.
Winston helps prepare Nick for the case and Schmidt seems to be screwed, so he fires Nick. The day arrives and Schmidt is going to defend himself, however, Nick and Winston show up. Winston chats with the other lawyers, but Nick seems to be losing the case and he uses an old technique. He takes the screws from his chair and falls when he goes to sit. The other guy is forced to drop the lawsuit or pay Nick, so the case is over.
Furthermore Cece meets Buster, a 20 year old Australian guy, the two flirt at the bar. However he is underage and unable to drink, in the end Cece goes out for coffee with him.
Cast
Main
Special Guest Star
Guest Starring
Ben Falcone as Mike
James Frecheville as Buster
Matt Price as Bill Berklan
Curtis Armstrong as Principal Foster
Brian Posehn as Biology Teacher
Lauri Johnson as Stenographer
Co-Starring
Rob Kerkovich as Tim
Matt Fusfeld as Douche Guy
Helen Hong as Teacher
Kim Yarbrough as Another Teacher
Michelle N. Carter as Yet Another Teacher
Jayce Dempsey as Rakim
Quotes
Jess: "I am young, I am energetic, and i think it's about time you take advantage of me!"
Nick: "You don't forget how to be a lawyer, it's like riding a bike."
Notes & Trivia
This episode was watched by 2.48 million of viewers.[1]
Nick says that he can't forget how to be a lawyer because is like riding a bike, but he remember that he forgot how to ride a bike.
It is mentioned (again) that Nick went to the law school.
While Jess and Coach are playing volleyball, it is clear that Jess is bad at the sport. However, in 3x03, when Nick and Jess are talking, Jess admits that she is oddly amazing at volleyball.
Schmidt is kind of broke because the events of Sister III
Photos
External Links
Community content is available under
CC-BY-SA
unless otherwise noted.