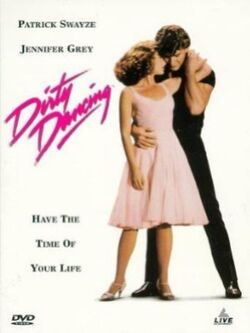 Dirty Dancing is a 1987 American romantic film. Written by Eleanor Bergstein and directed by Emile Ardolino, the film stars Patrick Swayze and Jennifer Grey in the lead roles. Cynthia Rhodes and Jerry Orbach are among the supporting cast. The story is a coming of age drama that documents a teenage girl's rebellion against her father by starting a relationship with a dance instructor during the family's summer vacation in the Catskills.
Significance
This is Jess's favorite film. In the series' first episode, she watches it six or seven times a day after breaking up with Spencer, bawling her eyes out, which drives the guys nuts. They encourage her to stop watching the film and get off the couch, and invite her out with them to find her a rebound. She finds one, but he stands her up, so Nick, Schmidt, and Coach head over to the nice restaurant to cheer her up. To stop her from crying, because they're so sweet, the guys break into a tone-deaf, lyrically-challenged rendition of the film's hit single - "I've Had (The Time of My Life)," originally by Bill Medley and Jennifer Warnes.
Because they're disturbing the other patrons, the hot, but until then sympathetic, hostess kicks them all out of the restaurant.
Back at the loft that night, the guys watch the film with Jess, in full, for the first time, and they don't mind it.